Silymarin (Milk Thistle) is considered to be one of the top selling supplements for liver health worldwide. However, Recent study shows Algatech's proprietary microalgae-derived FucoVitalTM to be much more potent than Silymarin in preventing harmful fat accumulation in liver cells, in an in-vitro model of non-alcoholic fatty liver.
FucoVital at low concentration was shown to protect liver cells by significant inhibition of fat accumulation. The study was performed by Dr. Joseph Tam, Head of Obesity and Metabolism Laboratory and Director of Multidisciplinary Center for Cannabinoid Research, Faculty of Medicine, The Hebrew University of Jerusalem.
In the study, Dr. Tam has examined ten potential substances for liver health, and FucoVital was shown to be the most potent out of all ten substances. Dr. Tam is developing new drugs for obesity and fatty liver based on endocannabinoids.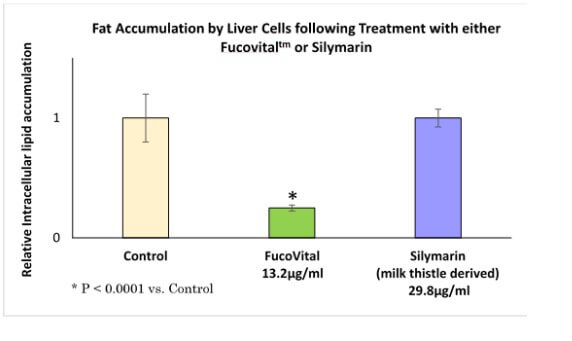 Following the promising results of Dr. Tam's study, Algatech is aiming towards a clinical study with FucoVital and subjects diagnosed with high liver enzymes and excess liver fat.
FucoVital is a unique, all-natural fucoxanthin oleoresin complex produced and extracted from microalgae. Studies show that fucoxanthin has demonstrated benefits for supporting liver health, glucose management and metabolic syndromes. Compared to seaweed-derived products, FucoVital's proprietary composition was shown to have high potency in testing conducted at The Hebrew University of Jerusalem.
Algatech's FucoVital is cultivated year-round in an industrial closed and controlled system, fully exposed to natural sunlight. Algatech harnesses its pioneering knowledge and expertise developed over the past 20 years to create a proprietary, sustainable fucoxanthin cultivation method and technology. Algatech relies on power generated in a solar panel farm and own water recycling platform. Algatech's microalgae cultivation displaces no crops, utilizes carbon dioxide and creates only oxygen as waste.